Pemanfaatan Ruang Punden Pada Tradisi Nyadranan Desa Klepek Kabupaten Kediri
Keywords:
punden, space, tradition, nyadranan
Abstract
Local wisdom of Klepek village involves a sacred space called punden. The implementation of the tradition with punden as a sacred space is an embodiment of the inner responsibility and gratitude of the community to the ancestors who built the village. Traditional activities involving punden consist of the nyadranan tradition, barikan, preparation for celebrations and thanksgiving after harvest. The focus of this research is on the nyadranan tradition. This study uses a qualitative method. Data from the object of observation was studied descriptively. The belief of the people of Klepek Village who believe punden as a sacred place results in the use of space. With the use of space for sacred activities, it can also be seen the factors that form it, namely: activity, purpose, time and actors involved. The interaction of these factors with the space used shows the meaning of space.
References
A H, Wibowo; Wasino; D L, S. (2012). Kearifan Lokal dalam Menjaga Lingkungan Hidup (Studi Kasus Masyarakat di Desa Colo Kecamatan Dawe Kabupaten Kudus). Journal of Education Social Studies, 1, 25–30.
Angelina, Patricia J; Wardani, L. K. (2014). Makna Ruang Ritual dan Upacara pada Interior Keraton Surakarta. Jurnal Intra, 2, 294–301.
Arimbawa, Wahyudi; Santhyasa, I. K. G. (2010). PERPEKTIF RUANG SEBAGAI ENTITAS BUDAYA LOKAL Orientasi Simbolik Ruang Masyarakat Tradisional Desa Adat, (2005), 1–9.
Ghaisani, Shabrina; Ramdlani, Subhan; Ernawati, J. (2016). Pola Aktivitas Pemanfaatan Ruang Luar Kawasan Wisata Songgoriti Batu. Arsitektur.Studentjournal, 1–8.
Pitana. (2007). Reproduksi Simbolik Arsitektur Tradisional Jawa. Gema Teknik, 126–133.
Salim, E. (1986). Pembangunan Berwawasan Lingkungan. Jakarta: LP3ES.
Setiawan, H. (2010). Arsitektur, Lingkungan dan Perilaku. Yogyakarta: Gadjah Mada University Press.
Slamet. (2015). Pemanfaatan ruang telaga pada tradisi sedekah bumi desa cerme kidul, kecamatan cerme, kabupaten gresik. Jurnal Ruas, 13(1), 47–55.
Sumardiyanto. (2016). Persistensi Makna Zona Publik dan Privat pada Rumah Tradisional Masyarakat Jawa di Desa Jagalan dan Kelurahan Purbayan Kota Gede, Yogyakarta. Program Doktor Arsitektur, Sekolah Pascasarjana, Universitas Katolik Parahyangan, 1–12.
Tarigan, Riandy; Sudikno, A. (2017). Kajian Makna Fungsi Arsitektur Tradisional : Menuju Arsitektur Lokal. Seminar Nasional Jelajah Arsitektur Tradisional, 1–11.
Tuan, Y. F. (1977). Space and Place : A Perspective of Experience. London: Edward Arnold.
Ven, C. (1991). Ruang Dalam Arsitektur. Jakarta: PT. Gramedia Pustaka Utama.
Zevi. (1957). Architecture as Space. New York: Da Capo Press.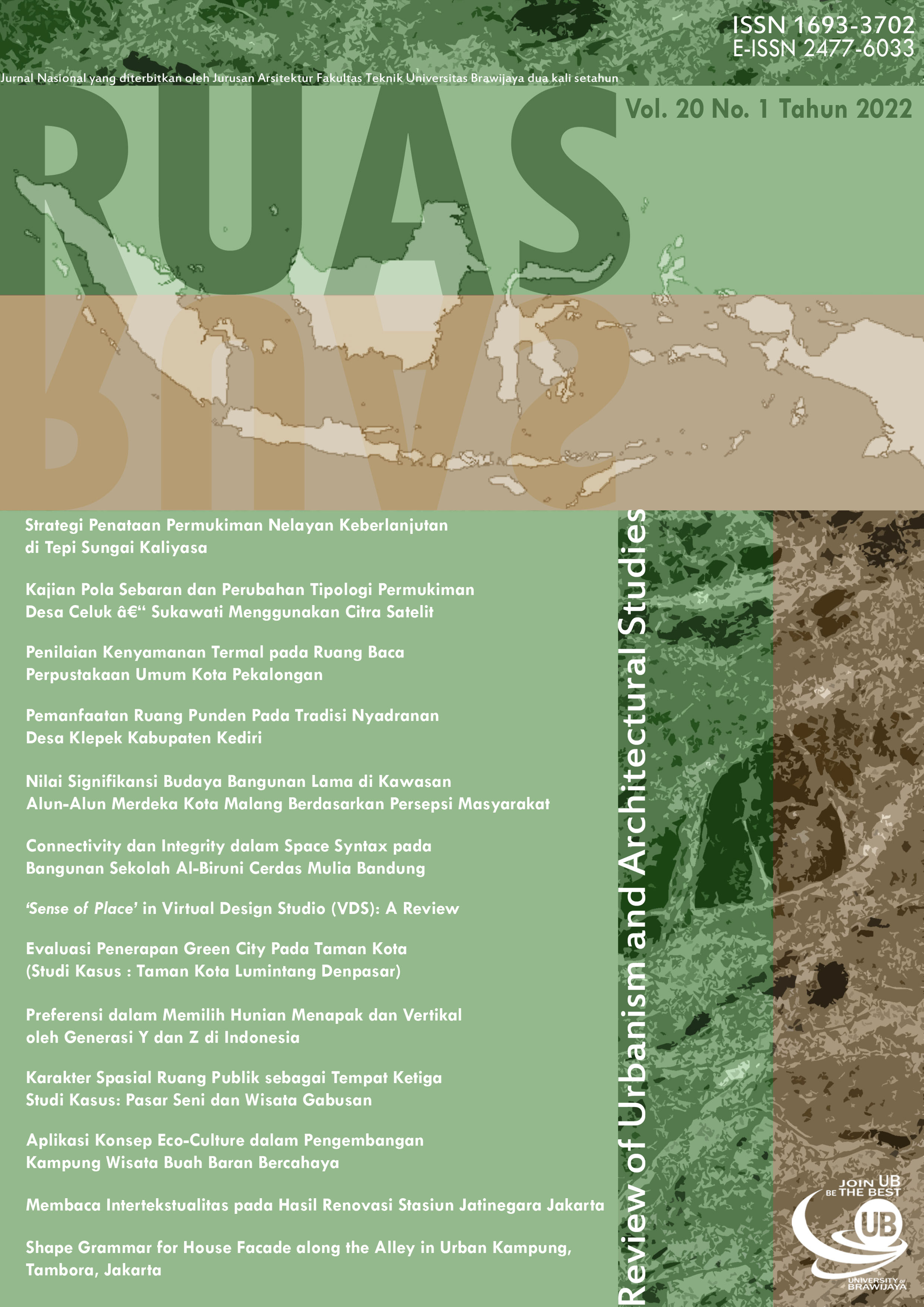 Downloads
How to Cite
Nur Tantyo, M. A. F., Wulandari, L. D., & Nugroho, A. M. (2022). Pemanfaatan Ruang Punden Pada Tradisi Nyadranan Desa Klepek Kabupaten Kediri. RUAS, 20(1), 33–43. https://doi.org/10.21776/ub.ruas.2022.020.01.4
License
Authors who publish with this journal agree to the following terms:
Authors retain copyright and grant the journal right of first publication with the work simultaneously licensed under a Creative Commons Attribution License that allows others to share the work with an acknowledgement of the work's authorship and initial publication in this journal.
Authors are able to enter into separate, additional contractual arrangements for the non-exclusive distribution of the journal's published version of the work (e.g., post it to an institutional repository or publish it in a book), with an acknowledgement of its initial publication in this journal.
Authors are permitted and encouraged to post their work online (e.g., in institutional repositories or on their website) prior to and during the submission process, as it can lead to productive exchanges, as well as earlier and greater citation of published work (See The Effect of Open Access).