Empat Perspektif Citra dan Harapan terhadap Kawasan Kesawan Kota Medan: Konservasi, Pariwisata, Revitalisasi, dan Pengembangan
Keywords:
community, expectation, image, Kesawan, perspective
Abstract
Characteristics and history contained in buildings and environments in the city will create an image of the area which was then called as historic area. Kesawan area in Medan City is one of the historical areas and the identity of the city. The current problems are economic interests, modernization, uneven urban development, and improperly enforced laws that threaten the existence of historic areas and buildings. This study aims to reveal the image and expectations of the Kesawan Area from the viewpoint of the people of Medan City, which can be used as a foothold in formulating policies in maintaining its preservation as a historic area. The methods used in this study are mixed methods, namely qualitative and quantitative. The data collection method is done using an online questionnaire with a non-random sample - snowball sampling. Qualitative data analyzed contents. Quantitative data were analyzed by factor analysis and multivariate correlation analysis. From the analysis of images and expectations revealed four perspectives on the Kesawan Area. First, a conservation perspective that hopes that Chinatown's identity in the Kesawan Area is maintained. The two tourism perspectives that have a dominant image of the Kesawan Area tourist attraction and the Kesawan Area hope remain the Medan City icon. The three revitalization perspectives that have the image of the Kesawan Area are difficult to park, crowded during the day, but have a visual appeal, and hope that the Kesawan Region becomes a living area. The four development perspectives expect infrastructure improvements in the Kesawan area.
References
Bryant, F.B., & Yarnold, P. R. 2001. Principal-Components Analysis and Exploratory and Confirmatory Factor Analysis In L. G. Grimm, & P.R. Yarnold, Understanding Multivariate Statistics (pp. 99-136). Washington: American Psychological Association.
Creswell, J.W. 2006. Qualitative Inquiry and Research Design: Choosing Among Five Approaches. California: Sage Publication, Inc.
Fatimah, Nurlita Btari. 2017. Perencanaan Lanskap untuk Pelestarian Kawasan Sejarah Kesawan Medan. Bogor: Institut Pertanian Bogor.
Groat, L, & Wang, D. 2002. Architectural Research Methods. New York: Jhon Wiley & Sons, Inc.
Hadinugroho, Dwi. L., & Eddy, Firman. (2016). Jelajah Tempat Berkarakter bagi Model Revitalisasi Pasar Petisah Medan. Prosiding Temu Ilmiah IPLBI, (B 021-B 026).
Hadinugroho, Dwi. L. 2017. Kajian Model Revitalisasi Kawasan Heritage Kawasan Kesawan Medan. Seminar Ikatan Lingkungan Binaan Indonesia (IPLBI), Vol.1 (B 045-052).
Hadinugroho, Dwi. L. 2018. Demolition: Tantangan Pelestarian Arsitektur Kawasan Kesawan Medan. Jurnal Arsitektur dan Perkotaan "KORIDORâ€, Vol.9, No.2 (236-242).
Haryono, Azis Yon. 2015. Penanda Kawasan sebagai Penguat Nilai Filosofis Sumbu Utama Kota Yogyakarta. Jurnal Arsitektur "ATRIUM†Vol.1, No.2 (93-107).
Lubis, M. Dolok. 2004. Identitas Fungsi Ruko Kesawan. e-USU Repository.
Rachman, Maman. 2012. Konservasi Nilai dan Warisan Budaya. Indonesian Journal of Conservation, Vol.1, No.1 (30-39).
Rahardjo, Supratikno. 2013. Beberapa Permasalahan Pelestarian Kawasan Cagar Budaya dan Strategi Solusinya. Jurnal Konservasi Cagar Budaya Borobudur Vol.7, No.2 (4-17).
Pettricia, H.A., Wardhani, D.K., & Antariksa. 2014. Elemen Pembentuk Citra Kawasan Bersejarah di Pusat Kota Malang. Jurnal RUAS Vol. 12, No.1 (10-23).
Purwantiasning, A.W., Mauliani, L., & Aqli, W. 2012. Tipologi Konversi Bangunan Tua di Pusat Kota Studi Kasus Pecinan di Singapura dan Petak Sembilan di Jakarta. Jurnal Arsitektur NALARs, Vol.11, No.2 (181-198).
Tampubolon, M.V., Kusuma, H.E., & Hutomo, C.S. 2019. Citra dan Harapan terhadap Kawasan Kesawan di Kota Medan. Jurnal Arsitektur NALARs, Vol.19, No.1 (59-68).
Tutuko, Pindo. 2010. Community Attachment pada Transformasi Desain Bangunan Permukiman di Sekitar Kawasan Pecinan. Local Wisdom Jurnal Ilmiah Online, Vol.2, No.4 (10-19).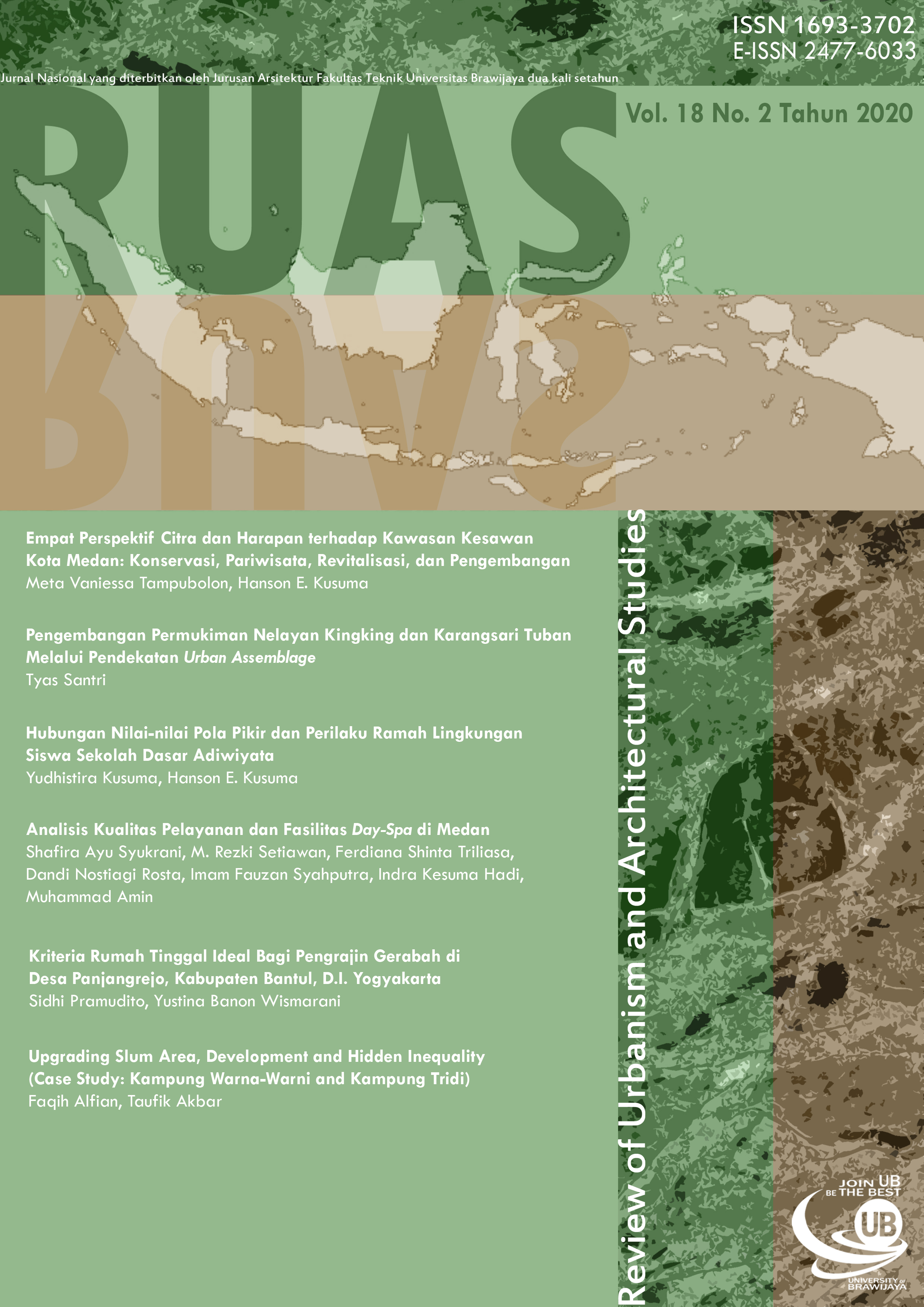 Downloads
Additional Files
How to Cite
Tampubolon, M. V., & Kusuma, H. E. (2021). Empat Perspektif Citra dan Harapan terhadap Kawasan Kesawan Kota Medan: Konservasi, Pariwisata, Revitalisasi, dan Pengembangan. RUAS, 18(2), 1–11. https://doi.org/10.21776/ub.ruas.2020.018.02.1
License
Authors who publish with this journal agree to the following terms:
Authors retain copyright and grant the journal right of first publication with the work simultaneously licensed under a Creative Commons Attribution License that allows others to share the work with an acknowledgement of the work's authorship and initial publication in this journal.
Authors are able to enter into separate, additional contractual arrangements for the non-exclusive distribution of the journal's published version of the work (e.g., post it to an institutional repository or publish it in a book), with an acknowledgement of its initial publication in this journal.
Authors are permitted and encouraged to post their work online (e.g., in institutional repositories or on their website) prior to and during the submission process, as it can lead to productive exchanges, as well as earlier and greater citation of published work (See The Effect of Open Access).